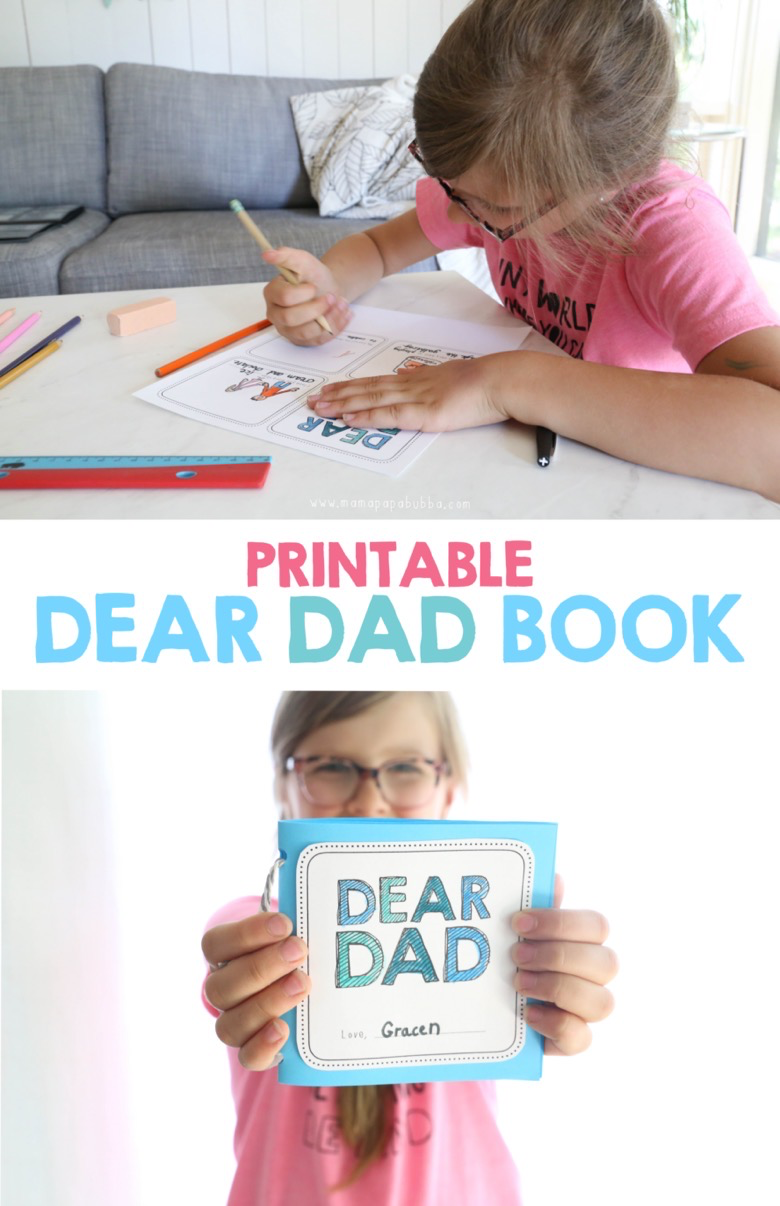 As you may know, for many years I wrote for CBC Parents where I shared all kinds of recipes, kids' activities, and parenting hacks.  CBC is currently doing some major reorganization and at the moment, my posts are unavailable, leaving many of you searching for links that you use year after year.  I'm not sure if my articles will eventually find new homes on CBC Kids, but in the meantime I'm happy to reshare them here so you can have what you need.  Please reach out to me if there's something you need and I'll do my best to help! ♥︎
Father's Day is just around the corner and this sweet little 'Dear Dad' book is a perfect, from-the-heart gift for little ones to make for their dads or caregivers. Included in this post is the Dear Dad version of the printable, as well as a Dear Daddy version, a Dear Papa version, and a blank version so you can fill it in with whatever name your child calls their special loved one.
Here's what you'll need to do this project with your child:
– our printable 'Dear Dad' pages
– coloured card stock
– a pair of scissors
– a single hole punch
– embroidery floss or twine
– a pencil
– a black fine liner
– pencil crayons
Alright, let's get started, shall we?  First up, you'll want to prepare the basic card stock book.  Whether you do this part, your little one does this part, or you do it together, is up to you.  I always opt to let kids do as much as they can, but you know your child's abilities and your comfort level best.
The very first thing you'll want to do is cut 3 card stock pieces to size.  Optimally you want the pieces to be 11.5 centimetres wide by 23 centimetres long.
Next, fold the 3 rectangular pieces of card stock in half to form a square book and punch one hole on either side of the centre crease.
Lastly, loop your embroidery floss or baker's twine through the holes a couple of times and secure it with a tight knot on the outside of the book before trimming the ends.
With the base of your book ready to go, it's time to get started on the most important part – the personalized pages about Dad.  Again, how much support you offer your child during this task is completely up to you.  My daughter's been writing independently for a few years now, so I simply let her to it.  When she was younger, however, I would have asked her to tell me what she wanted to say and I would have scribed for her. Do whatever works best for your kiddo.
Now, a few quick tips for this part of the project…
1.  Have your child personalize their book pages before they're cut out and glued onto the card stock base.  This way, if a mistake that cannot be fixed is made, you can always just print off another sheet.
2.  Ask your child to do all of their work in pencil first and then trace it in black fine liner.  The fine liner will make the finished book look polished and give it some pop, but having everything done in pencil first means that mistakes can easily be fixed.
3. Don't tackle all of the book pages in one sitting (unless your child is super focused and into it, of course).  Spreading out the project over 2 or 3 sessions will allow your little one to do their very best work throughout the entire book and will keep the project light and fun.
When the personalized pages are done, cut them out just outside the dotted line and glue them into your pre-made book.  Be sure to include the year on the last page or on the back of the book and your sweet, from-the-heart gift is ready to give!
FInd the printables here:
Dear Dad  |  Dear Daddy  |  Dear Papa  |  Dear ______ (fill in the blank)
Are you following us on social media?
Find us on: Facebook | Instagram | Pinterest | Twitter
We'd love for you to join us!