Tonight Gracen and I whipped up one of our easy family favourites for dinner.  I've been asked for a detailed recipe for these baked burritos time and time again, but to be honest, they're so easy, a recipe isn't really required.  There are tons of different possibilities, but we keep ours very simple…
First off, our usual list of ingredients…  Wholewheat tortillas, shredded chicken breast, refried beans (you can easily make your own or look for the can with the lowest sodium – some are though the roof with salt), cheese (in this case an all-natural vintage white cheddar, but colby, jalapeño jack, and mozzarella work well too), and salsa verde (or 'green sauce' – I always pick the one with a short list of wholesome ingredients).
All it really takes is layering up the ingredients on the tortillas.  First up – the refried beans.  We use a heaping scoop per tortilla and spread it out across the centre of a tortilla using the back of a spoon.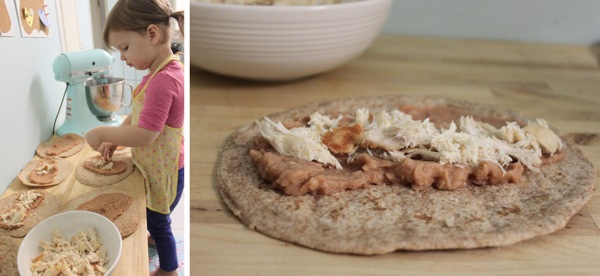 Next, we take a little bit of shredded chicken breast and distribute it over the beans.  Be sure not to over fill the tortillas – you want them to roll easily at the end.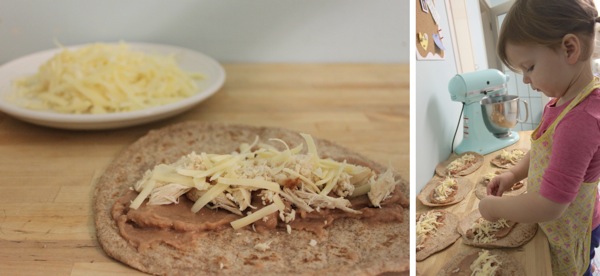 Next, add a tiny sprinkle of cheese.
And if desired, add a couple of jalapeño peppers to each shell (we leave a couple without for Miss G).
That's it.  Now gently roll up the tortillas and place them in a glass baking dish, lining them up tightly, one next to the other.
Eight burritos should fit perfectly in your dish.
With the burritos finished, pour the salsa verde evenly on top.
How much salsa you use just depends on how saucy you want the dish.  We normally use between 1/2 and 3/4 of a jar so that all of the burritos have some salsa on top, but are not fully covered.
Last step – sprinkle a small amount of cheese on top of the salsa.
Ready for the oven!
Bake until the filling is piping hot and the cheese is melty, then allow the burritos to broil for a couple of minutes so that the cheese becomes golden and the tortilla edges begin to get crispy.
Top with avocado chunks, green onions, or fresh cilantro (or better yet – all 3) and serve with a side of sautéed veggies and/or rice.
Baked Chicken & Bean Burritos
8 small wholewheat tortillas
1 can of refried beans
2 chicken breasts, cooked and shredded
1 cup of cheese (cheddar, colby, jalapeño jack, or mozzarella)
1/4 cup of jalapeño peppers, if desired
1/2 to 3/4 of a jar of salsa verde or green sauce
burrito toppings (avocado, green onions, fresh cilantro, sour cream, etc.)
Lay out the tortilla shells and add a strip of refried beans to the centre of each shell.  Top the beans with some shredded chicken and a big pinch of cheese.  Add jalapeño peppers if desired.
Carefully roll the tortillas and place them in a glass baking pan close to one another.
Top with the desired amount of salsa verde and the remaining cheese.
Bake at 350 degrees for 25 minutes, then switch the oven over to broil and let the burritos crisp up for another couple of minutes.
Add toppings and enjoy!