This is a breakfast both Gracen and I love.  I love it because super healthy and I can throw all of the ingredients into a mason jar before I go to bed and wake up to an already prepared breakfast.  I'm sure she loves it because it's sweet, creamy, and it feels like you're having dessert for breakfast.  And that's okay with me. I agree!
If you haven't yet tried chia seeds, you definitely should.  They're often called the "super seed", and for good reason.  They're packed with essential fatty acids, fibre, calcium, and a bunch of other vitamins and minerals, plus they can absorb up to 12 times their weight in liquid.  Besides using them in puddings, around here we add them to yogurt, muffins, cereal, and smoothies too.  In fact, they quickly became my secret smoothie ingredient when I learned that adding a tablespoon of chia to a blender of our favourite smoothie would keep it thick and prevent it from separating (even when kept in the fridge overnight!)
But onto the recipe.  Here's what we use to make our overnight mango coconut chia pudding…  Your choice of milk (coconut milk is especially delicious in this recipe), pure maple syrup, chia seeds, pure vanilla, unsweetened coconut, and a mango (not pictured because it isn't needed until morning).
I like to make this recipe in a mason jar because it seals well and I can give the jar a little shake every now and then, but any sort of bowl or container that has a lid will do.  
To get started, add your chia seeds to the milk.
Then add the coconut…
The maple syrup…
And the vanilla.
Give everything a stir…
Pop the lid on and put the jar in the fridge.  If you come back to the fridge again that night, give the jar a gentle shake to prevent clumping.  If not, it's not a big deal.
Now go to sleep.
Zzzzzzzzzzzzzz….
When you wake up in the morning, retrieve your mason jar of pudding.  It'll be thick  and creamy by now and will resemble the insides of a passionfruit. Grab a mango too.  (Though mango / coconut is one of our favourite combinations, strawberries, bananas, and blueberries pair well with the coconut too.)
Now peel and chop up your mango into small pieces…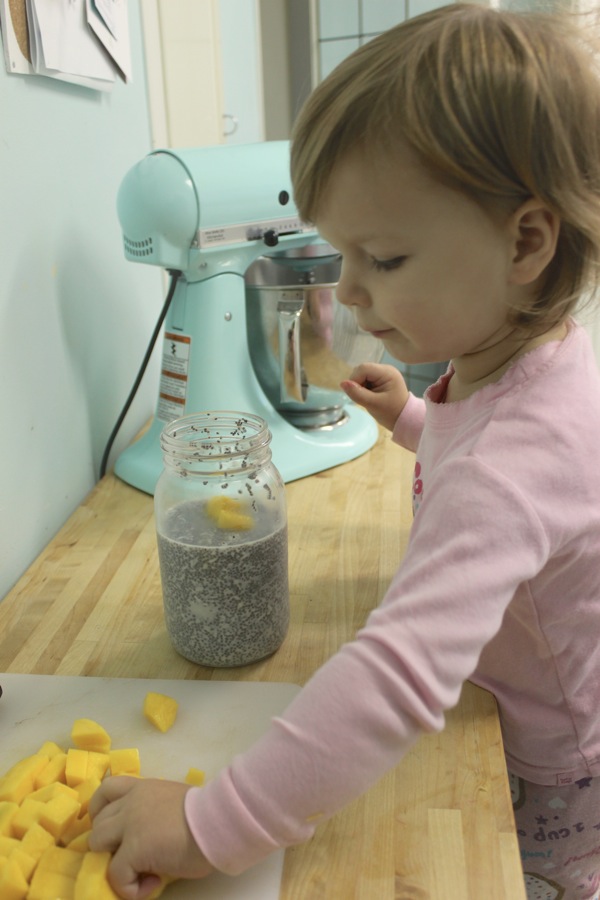 And add them to the jar.
Mix everything together well.
Breakfast is ready!
Serve with fresh or frozen berries, mint leaves, or almond slices.
Mango Coconut Chia Breakfast Pudding
2 cups of your favourite type of milk
6 tablespoons of chia seeds
3 tablespoons of unsweetened coconut
1 tablespoon of pure maple syrup
1 teaspoon of pure vanilla
1 medium-sized ripe mango
Put the first set of ingredients into a jar and stir. Put the lid on the jar and put in the fridge overnight.  If you come back to the fridge later in the evening, give the jar a shake or two (if not, don't worry about it).  
In the morning, retrieve your jar and a mango.  Peel and dice the mango, add it to the jar, and give everything a stir. 
Serve with berries, mint leaves, or almond slices.
Enjoy!