This morning Miss G and I walked over to Cook Street where we met up with my good friend Laura, her adorable little lady, Avey, and their teeny tiny dog, Cocoa.  Before walking along Dallas Road, we started off our visit at the newly updated Cook Street Playground, which is honestly one of the best playgrounds we've been to.  It was such a huge hit with Gracen that we stayed longer than planned the first time around, then went back after nap time and spent another couple of hours there.  
The park boasts several different play structures, a rope climbing apparatus, a couple of different swing sets, a giant slide, and an open-mouthed dinosaur-esque creature which is perfect for climbing on.
But the one thing all of the kiddos were after?  This green chair swing.  Grae seriously stood next to it for over 15 minutes patiently waiting for her first turn.  Luckily when we came back later, the park was less busy and Miss G got several turns in.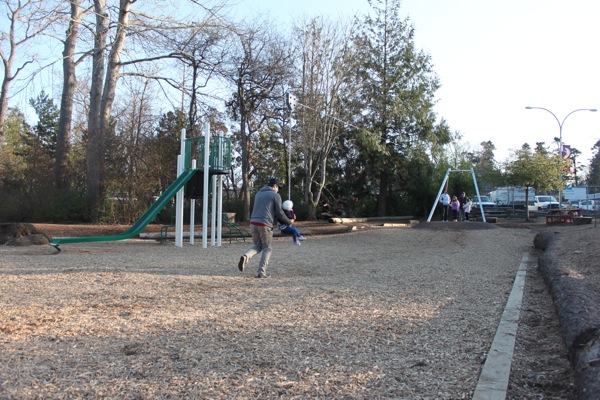 The other amazing thing about this playground is it's huge zip line.  Grae was all for testing it out at first, became a little anxious when she got to the front of the line, and then loved it once she gave it a shot.  She enjoyed the ride several times, and Papa may have snuck in a turn too. ☺
Of course there are features to please the love-to-spin crowd too (barf – how do kids do it?) Plus there are bathrooms nearby, park benches to relax on, picnic tables to eat at, a water fountain, and an adult fitness circuit too. 
This playground is such a great find and a must-visit if you're in Victoria with little ones… Not to mention that it's conveniently tucked between the Cook Street Village (coffee!) and the beautiful seaside walking path along Dallas Road.  I'm just sad that it's not in Vancouver!
If you're new to Mama.Papa.Bubba., welcome!
Stay on top of the fun by liking us on Facebook here and following us on Instagram here.