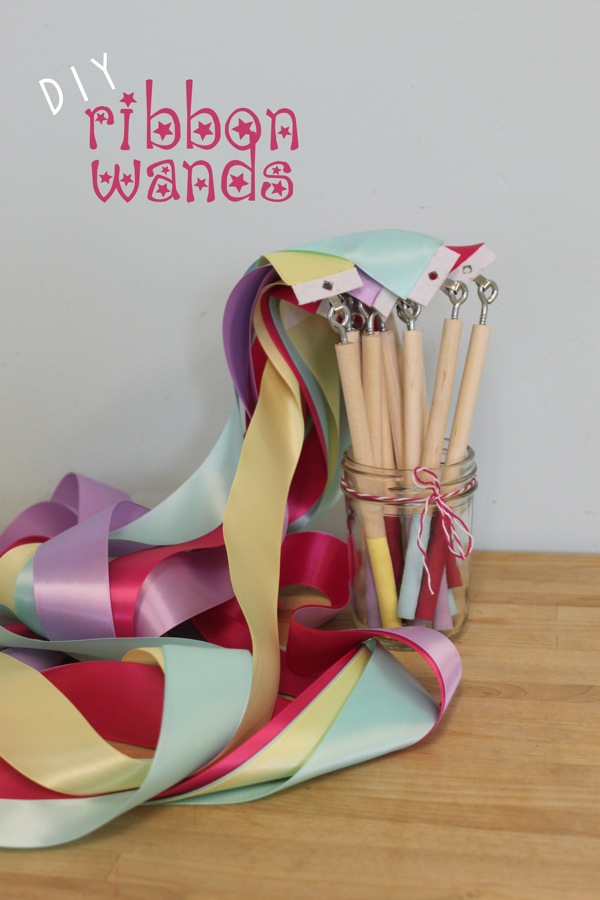 Making one of these sweet little ribbon wands for Miss G has long been on my project list, and since her last dance class took place today, it was the perfect motivation to not only make one for Grae, but to make one to gift to each of her little friends too. 
If you poke around the internet, you'll find tons of different styles of ribbon wands and methods to make them, but when we stumbled upon these adhesive picture hanging strips (available at hardware stores), we came up with a way of our own.  
First off, we took  wide satin ribbon and cut it into strips approximately 125 centimetres long, cutting one end straight across and one end at an angle. Then, using a lighter, we sealed off the cut edges.
Next, we took the adhesive backing off of the picture hangers and firmly attached them to the straight end of the ribbon.  At this point I was going to sew the picture hanger onto the ribbon for added security, but the adhesive was so strong that it wasn't necessary. 
With our ribbons ready, we moved onto the wand part of the project.  Using painter's tape, we taped off our 6 inch dowels about a third of the way up.
Then using crafter's acrylic in colours that coordinated with our ribbons, we painted the bottom third of each dowel with two coats of paint.
When the paint was good a dry, we carefully removed the painter's tape to reveal the handle part of our wands.
Next, we used a tack to poke holes in the top ends of the dowels. 
Then it was time for these guys – small eye hooks available at all hardware stores.
We screwed the eye hooks into the recently made holes by starting the process by hand and using pliers part way through.  (One thing to be mindful of at this point is that if your eye hooks are on the larger side (like ours), you don't want to force them down into the dowel too far.  You'll get a pretty good sense on when you should stop twisting, and please do so.  Spoken from experience, if you force them down too much, the dowels will split open.)
Your wand should now look like this.  
Now the final step…  We hooked the metal picture hanging hook onto the eye hooks and use pliers to squeeze the hook shut tightly.
And there you have it – a pretty little ribbon wand.
In order to transport them to dance class without a big tangly mess happening, we simply wrapped the ribbons around the wands, and secured them with a bit of polka dotted washi tape.
♥