Seeing this adorable video tutorial on Jen Loves Kev inspired Miss G and I to create our own bath fizzies to gift to her two lovely grandmas (we love giving handcrafted gifts!)  This lavender rosemary version was for her Grandma Charlotte who enjoys natural, woodsy scents, and her citrus-loving Grandma Sue got a lemon grapefruit version.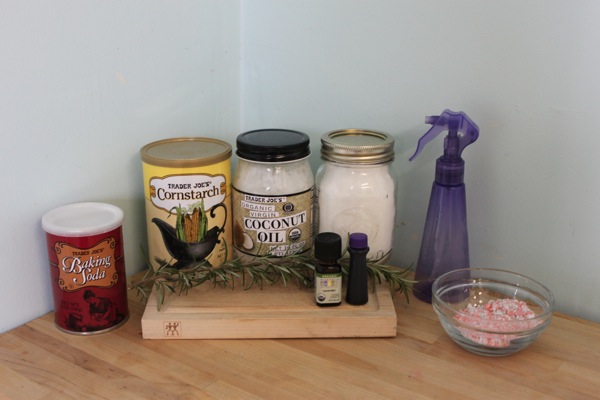 Here's our line up of ingredients… Baking soda, cornstarch, coconut oil, citric acid, water in a spray bottle, epsom salts (we'd previously dyed ours pink just for fun), fresh rosemary from the garden, lavender essential oil, and purple food colouring.  While we had most everything already on hand, we picked up the lavender essential oil at a local variety store that specializes in natural products and the citric acid from a very cool little Main Street shop called The Soap Dispensary (if you live in Vancouver, I highly recommend you check it out).  Citric acid can also be found in grocery store canning sections, behind the counter at pharmacies, and in many bulk food stores too.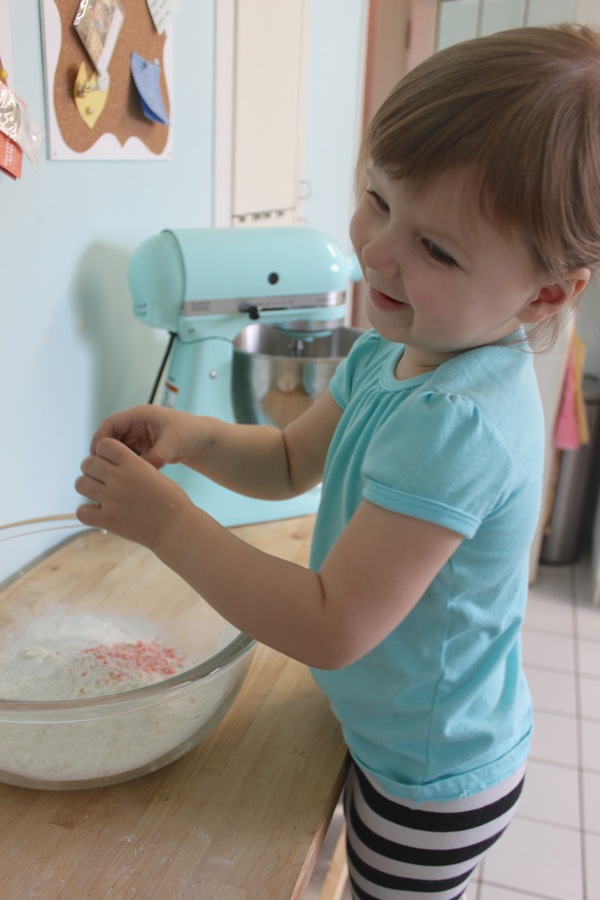 Making these was pretty simple, so as usual, my little helper did most of the work.  First off, we measured out all of the dry ingredients, added them to a large mixing bowl, and dropped in a generous amount of essential oil before Gracen whisked everything together thoroughly.
Next, we focused on the wet ingredients.  In a spray bottle that allows a very fine mist, we shook up some water, some liquid coconut oil (we just ran the jar under warm water for a minute to liquify it, but you could just as easily melt it in the microwave), and several drops of food colouring.
For the next step, you need to have some patience…  Basically, the goal is to add the water and oil mixture into the dry mixture very slowly in order to avoid causing a fizzy reaction.  If you get a little bit impatient (like we did the first time around), you'll have all kinds of fizzy bubbles in your bowl, but your finished bath bombs won't fizz all that much once in the tub (though they'll still soften the water and smell fantastic).  In order to do this, you want to mist some water/oil onto the dry ingredients, whisk it well, add a little more, whisk it well, and so on and so on.  What's fantastic about having a helper is that one of you can basically stir while the other sprays.  
As you go, you'll notice that your mixture will eventually start to clump while mixing and look less like a floury powder.  When you can grab a handful, squeeze it, and have it hold it's shape, you'll want to stop adding water.
We could have stopped where we were in order to make straight up lavender bath fizzies, but ripped up a bunch of fresh rosemary and added it into the mix instead.
Next we scooped the mixture into the IKEA ice cube trays we regularly use for crafting, pushed it down well, added more mixture, and patted it down tightly once more.  Then we laid them out in the solarium to dry out a little bit.
This is the next test of patience when it comes to this project…  At the two hour mark, I couldn't help myself and attempted pushing out a couple of our little bath bombs.  Though they sort of held their shape, it was a crumbly mess and I totalled a couple in the process.
At the 3 hour mark, they came out much more cleanly and easily, so I'd definitely recommend waiting.  Once out of the moulds, we let them dry on the counter over night.
The next day, we carefully placed them in a vintage mason jar tied with some pretty bakers twine.  
And that was that.  Simple and pretty.  
For Grandma Sue's batch, we followed the exact same recipe, but split the dry ingredient mixture in two before adding the essential oils and water/coconut oil combo.  For one half of the batch we added lemon essential oil and yellow food colouring, for the other we added grapefruit essential oil and pink food colouring, and we skipped the rosemary all together for both.  
The thing I wondered about most when making these was whether or not they would actually fizz…  They do!  (Well as long as you're patient and add the water to the mixture slowly that is.)  Though it's not the explosive sort of fizz you get with the beautiful bath bombs purchased at LUSH, they have a nice slow release sort of fizz to them that lasts for a good long while.  And the smell is amazing!  Just one little fizzy makes the whole bathroom smell wonderfully!
Rosemary Lavender Bath Fizzies
1 cup of baking soda
1 cup of cornstarch
1/2 cup of citric acid
2 tablespoons of epsom salts
10 – 15 drops of lavender essential oil
2 1/2 tablespoons of warm water
1 1/2 tablespoons of coconut oil (in its liquid form)
2 – 3 drops of gel food colouring (completely optional)
spray bottle
whisk
silicone moulds
Whisk the dry ingredients and essential oil in a large bowl.  
Add the warm water, liquid coconut oil, and food colouring into a spray bottle capable of a fine mist and shake it well.
Spray the water into the dry mixture slowly, mixing well in between, until the mixture comes together and holds its shape when squeezed.  Rip up the fresh rosemary and stir it into the mixture.
Scoop the mixture into the moulds, press it down tightly, and let dry for at least 3 hours.  Gently remove the bath fizzes from the moulds and let them sit out on the counter overnight to fully dry out.  
Package and gift. ☺
♥ 
If you're new to Mama.Papa.Bubba., welcome!
Stay on top of the fun by liking us on Facebook here and follow us on Instagram here.