This weekend, Gracen and I tried a new healthy cookie recipe.  Knowing how most healthy cookies turn out (good, but very healthy tasting), I didn't have my hopes set too high.  Much to my surprise, however, these cookies turned out to be delicious.  Slightly crunchy on the outside while still soft on the inside, super sweet, and chocked full of yummy seeds and nuts.  Even Brad commented on how good they were.  So today, only a few days after making the first batch, we made another.  
Here's a quick rundown on how we like to make our new favourite cookies…
Gather the ingredients.  
Place the pecans on a baking sheet and pop them into the oven to toast for about 10 minutes.
In the meantime, put some of the oats into a blender or food processor and turn them into oat flour.
Pour the oat flour into a large mixing bowl.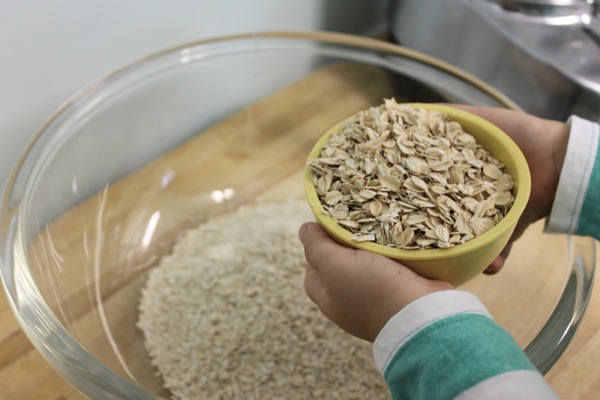 Add your regular old-fashioned oats.
Then the ground flax and hemp hearts…
Plus the salt, baking soda, and cinnamon.
Give all of the dry ingredients a good stir.
Next, pour in the pure maple syrup.
Coax the coconut oil into coming out of its bowl…
Add the honey…
And vanilla.
Stir the sticky mixture well.
At this point, it'll be crumbly and sticky all at once and you'll wonder how on earth it'll ever become cookies.  Don't fret.
By now, your roasting pecans will smell lovely and will be ready to come out of the oven.
Allow them to cool a moment and pop them into a blender or food processor, pulsing them just a handful of times to create small bits.
Then add them to your cookie mixture.
Next up, the add-ins.  Dump in your raisins…
Plus the sunflower seeds and almond slices…
And stir everything up really well.
Now for the tricky part…  With a bowl of warm water nearby, wet you hands, scoop out a heaping tablespoon of cookie dough, and shape into a ball, pressing firmly.  Repeat for the remainder of the dough, rewetting your hands every couple of cookies.  
Now pop them in the oven…
And take them out approximately 10 – 13 minutes later, when the outsides are golden and crispy, but the centre is still very soft to the touch. Let the cookies cool completely before removing from the pan.
Serve with a glass of cold milk, or if you prefer 'the Gracen special', with a small bowl of plain yogurt (she plops the cookie in, then smashes it into the yogurt with her spoon – I think they remind her of granola ☺).
Healthy Trail Mix Cookies
Adapted from this recipe from Oh She Glows
1 cup of pecans, toasted
1 cup of old-fashioned oats, blended into oat flour
1/4 cup of rolled oats
1 tablespoon of ground flax seed
1 tablespoon of hemp hearts
1/2 teaspoon of baking soda
1/2 teaspoon of cinnamon
1/4 cup of pure maple syrup
2 heaping tablespoons of honey
1tablespoon of coconut oil
1/2 teaspoon of pure vanilla
1/3 cup of raisins
3 tablespoons of sunflower seeds
3 tablespoons of sliced almonds
Preheat oven to 300 degrees.  Spread pecans onto a parchment-lined baking sheet and bake for 10 minutes.
In the meantime, use a blender or food processor to grind your oats into oat flour.  Put the flour, along with the other dry ingredients, into a large mixing bowl and stir.  Add in the wet ingredients and mix really well.  
By now, your pecans should be ready.  Remove them from the oven and crank up your oven's temperature to 350 degrees. Pop the pecans into your blender or food processor, and give them just a few pulses to break them up into small bits.  Add the pecans, as well as the raisins, sunflower seeds, and sliced almonds to the cookie mixture and stir well.  
With a bowl of warm water nearby, wet your hands and press firmly to shape approximately 1 heaping tablespoon portions of cookie mixture into a balls.
Bake the cookies at 350 degrees for 10 – 13 minutes.  When you remove them from the oven, the cookies should be golden, crispy on the very top, but very soft to the touch still.  Allow them to cool completely before removing from the cookie sheet.
Enjoy!