Okay, so maybe we're not really granola crunchers, but we're definitely granola lovers.  The problem is that granola you buy at the store is filled with all kinds of sugar, sodium, and other things we don't want Grae to eat. And since we picked up a bunch of delicious Liberté yogurt today, we needed a batch of homemade, healthy granola, pronto.  Of course my little sous chef was more than happy to help out in the kitchen.
First things first…  Gracen measured out our old-fashioned oats.
Then she added the almonds, pumpkin seeds, sunflower seeds, sesame seeds, ground flax, wheatgerm, and quinoa flakes.
And enthusiastically shook in the unsweetened coconut.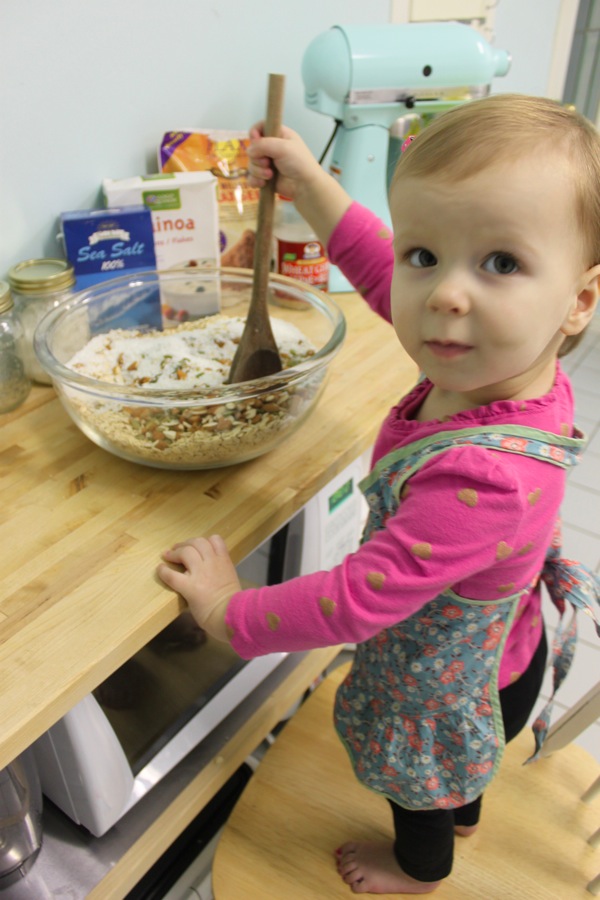 That was it for dry ingredients.  Then it was time to stir, stir, stir.  (Don't mind Grae's bruised cheek – the poor little thing had a fall a couple of days back.)
On to the wet ingredients and spices!  In a separate bowl (or in our case, measuring cup), we added and mixed together our applesauce, pure maple syrup, olive oil, cinnamon, ginger, and salt.
This part is the most fun.  We added the wet ingredients to the dry and Grae went on a stirring frenzy.
When everything was evenly coated, we dumped the mixture out on two large baking sheets, spread it out, and drizzled on just a touch more olive oil before popping both pans into the oven.
Gracen was our official granola watcher and I was the official granola flipper.  We make a pretty good team. :)
And after about 45 minutes in the oven, we took it out to cool on the counter. Voila!  Done.
Gracen patiently waited for dinner to be made, ate up her portion, and then moved on to her anxiously-awaited dessert course – yogurt with granola and dried fruit!
Apparently it was so good that it disappeared more quickly than she was prepared for.
Be warned – if you try this recipe, licking leftovers off of your sleeve is a total possibility.
Here's the original recipe and here's our slightly modified version:
6 cups old-fashioned oats
2 cups chopped raw almonds
1/4 cup raw pumpkin seeds
1/4 cup raw sunflower seeds
1/4 cup sesame seeds
1/4 cup wheat germ
1/4 cup ground flax seed
3/4 cup unsweetened coconut

2 TBSP quinoa flakes
2 individual cup unsweetened applesauce

1/4

cup pure organic maple syrup

3 TBSP extra-virgin olive oil

1 TBSP ground cinnamon

1/2 TBSP ground ginger

1/4 tsp sea salt
Preheat the oven to 300°F.
Mix the dry ingredients in a large bowl.  Mix the wet ingredients together in a separate bowl, and then add to dry ingredients.  Stir well to mix thoroughly.
Spread the mixture onto two baking dishes. Bake for about 45 minutes, or until evenly golden brown, stirring every 15 minutes to ensure even browning.