Today we had a day of rest and relaxation at home. It was filled with snuggles and stories, drawing and colouring, doing puzzles on repeat, and multiple games of hide-and-seek.  Sadly, our day of relaxation meant missing a Port Moody play date we were anxiously awaiting, but after coming home to a runny-nosed doodlebug who coughed herself to sleep last night, I knew we were in need of a very low-key day. In addition to the things I already mentioned, Gracen and I spent a good part of our day doing one of her very favourite things – cooking!  We whipped up two of our 'while Papa's away' staples – chickpea patties and quinoa salad. Both are easy to make, full of nutrients, and delicious (despite what Bradley may say).  The best part?  Both are very sous chef friendly.  :)
Chickpea Patties:

First things first, we drained and rinsed our chickpeas well.  Then Gracen carefully shuffled them into a large bowl.
Next, we added a drizzle of olive oil and an egg.
Then Grae mashed like mad.
When the chickpeas were good and mushy, Gracen added in our fresh ingredients – carrots, zucchini, sweet onions, garlic, green onions, and fresh cilantro.
Then we added the dry ingredients – wholewheat flour, cornmeal, black pepper, sea salt, curry powder, and garam masala.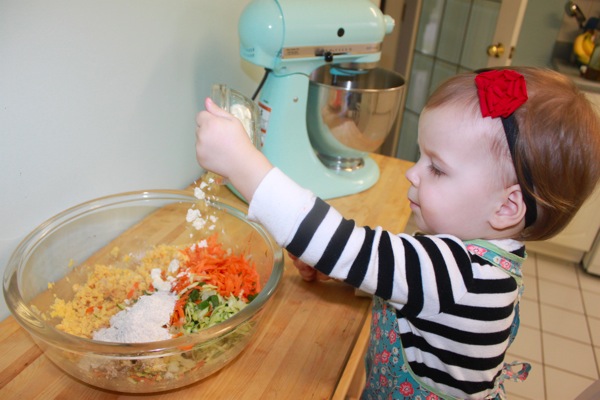 And just for fun, today we tossed in a little feta.
That's it.  Then my little sous chef mixed, mixed, and mixed some more until all of the ingredients were evenly distributed.
Then we formed them into patties.
And popped them in the oven.  And while those baked, we started on our next dish…
Quinoa Salad:

First off, Miss G added our fresh veggies to our already cooked quinoa.
Of course she stopped to steal a few big chunks of avocado in between handfuls.
Then we added a little drizzle of olive oil…
And generous drizzle of the Okanagan's own, Little Creek Dressing (delish).
Then Grae mixed it all up.
That's it.  Lunch is served.  Chickpea patty, garlic scape pesto, quinoa salad, and apple slices for dessert.
Of course Grae gobbled it up like we hadn't fed her in a week!  Hopefully a vitamin-packed lunch will help her fight this little bug that seems to be pestering her.  Recipes below. :)
Truthfully, neither of these are "recipes".  Both just kind of came about last summer when we were freshly home from Kuwait and taking advantage of Grandma Charlotte's fully stocked vegetable garden.  There are tons of possible ingredient variations and honestly, nothing I've done to either dish has turned out badly.  Yay for forgiving recipes!  :)
Chickpea Patties:
2 cans of no salt added / low sodium chickpeas, drained and rinsed
1 egg
generous drizzle of olive oil
1/2 of a large carrot, grated
1 small zucchini, grated
1/4 of a sweet Spanish onion, finely chopped
2 green onions, chopped
2 cloves of garlic, finely chopped
handful of fresh cilantro, coarsely chopped
small chunk of feta, crumbled (yummy, but totally optional)
2 – 3 TBSP of wholewheat flour
2 – 3 TBSP of cornmeal or breadcrumbs
1 TBSP of curry powder
1 TBSP of garam masala
generous grinding of fresh pepper
pinch of sea salt (not needed if using feta)
*Veggie combos are endless.  Mushrooms, leeks, kale, and spinach are delicious in these too.  Also, instead of curry powder and garam masala, basil, thyme, and oregano can be substituted for a more Italian feel.
Preheat oven to 400 degrees and line a baking pan with parchment paper.
Drain and rinse the chickpeas.  Add the olive oil and egg and mash well.  Add all other ingredients and stir well.  Gently form into patties and place on the lined pan.  If patties are difficult to form because the mixture has too much moisture, adjust the amount of flour / breadcrumbs.
Bake for 25 to 30 minutes, flipping once halfway through. Serve as is, with a dipping sauce, on a bun with traditional burger toppings, or wrapped in a pita with lettuce and tomato.
Quinoa Salad:
2 cups of boiling water
1 cup of uncooked quinoa
1/2 of an avocado, diced
2 green onions, chopped
1/2 of a red pepper, diced
1/4 of a long English cucumber, chopped
handful of fresh parsley, chopped
small drizzle of olive oil
generous drizzle of your favourite dressing
*For a more Mexican vibe, replace the cucumber and parsley with some black beans, corn, jalapeños, and cilantro.
Bring water to a boil.  Add the quinoa, cover, and turn the heat down to low.  Remove from heat when all water is absorbed and fluff quinoa with a fork.  Let cool.
Add fresh veggies, herbs, olive oil, and dressing.  Mix well and serve.