Let me tell you, our little girl loves to cook.  This afternoon I made mention of the fact that I might need some help with dinner and she had her apron around her neck and was pushing a chair into the kitchen before I had even gathered my canned goods.  On tonight's menu was one of our household staples – turkey chili.  Super hearty, easy to pull together, loved by everyone, and even better as left overs…  That's my kind of meal.
Here's the line up of ingredients:  Ground turkey (cooked with a couple of diced onions, a couple of chopped celery stalks, a few minced garlic cloves, some olive oil and lots of freshly ground pepper), frozen corn, baked beans, kidney beans, black beans, diced tomatoes, tomato paste, chill powder, cumin, oregano, and cayenne pepper.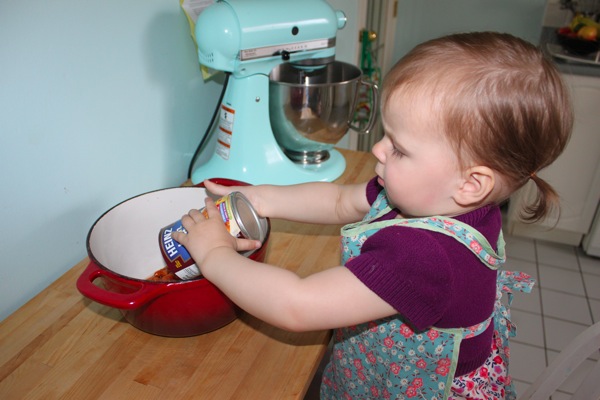 Once you've browned your ground turkey (ground chicken works just as well), you basically just add everything to a pot and let it do its thing.  In with the baked beans…
Side note: I hate buying baked beans. I'm rarely able to find a good low-sodium, low-sugar option and always end up juggling 5 cans in an effort to accurately compare their labels while entertaining a toddler who wants the shopping cart to keep moving.  Must find a good brand and stock up.
Drain and rinse your black beans and add them to the pot.
Same drill with your kidney beans (white or red both taste great)…  Drain, rinse, and add.
Next, add your diced tomatoes.  I buy a petite diced low-sodium olive oil and garlic option – more flavour and no chopping!
Next, add in some corn.
And some tomato paste.
Then add your ground turkey mixture.
On with the spices!  First, add a generous amount of chill powder…
Then some cumin…
And a touch of oregano.
Depending on how spicy you like it, shake in some cayenne pepper.  (We often add some jalapeños at this point too, but we like a little heat.)
Now mix everything up really well…
So that it looks something like this.
We use an awesome really heavy oven-safe Kitchenaid pot (wish I knew what it was really called) that Brad's parents bought us, so we put the lid on, pop it in the oven, and come back an hour later to a hot dinner. (A stovetop pot or slow cooker works just as well.)
If time allows, let your chili stand before serving.
Dish into bowls and top with your favourite toppings… Avocado, sour cream, jalapeños, and grated cheese are some of our favourites.
Southwest Turkey Chili
*This recipe is very flexible and easily lends itself to changes, so don't be afraid to experiment and get it just as you like it.
1 package of lean ground turkey (ground chicken works too)
2 small / medium onions, diced
2 celery stocks, chopped
2 – 3 garlic cloves, minced
2 tablespoons of olive oil
freshly ground pepper to taste
1 can of no-salt-added black beans
1 can of no-salt-added kidney beans
1 can of low-sodium, low-sugar baked beans
1 can of petite diced low-sodium tomatoes
1 cup of frozen corn
1/2 can of all-natural tomato paste
2 – 3 tablespoons of chili powder
1 heaping tablespoon of cumin
1 1/2 teaspoons of oregano
cayenne pepper to taste
salt to taste
Preheat oven to 400 degrees.
In a large frying pan, heat olive oil on medium heat.  Sauté onions and celery for a few minutes.  Add garlic and sauté for another minute. Add turkey and freshly ground pepper.  Sauté until the turkey is fully cooked, making sure to break up big pieces every now and then.
Add turkey mixture, along with all other ingredients into an oven-safe pot.  Stir well.  Place lid on pot, pop into the oven, and let cook for a full hour.  (If you're really on your game and have the time to spare, cook for 2 hours at 350 degrees.)  Remove chili from heat and let stand 10 – 20 minutes before serving.  Taste and add salt if desired.
Top with cheese, sour cream, jalapeños, or avocado.
Enjoy!