A couple of days ago as Gracen was emptying and restocking Grandma Charlotte's pantry shelves just for fun (obviously), she came across a can of condensed milk.  GC had no idea why she had it or what she'd ever do with it, but I had an idea… Shiny homemade paint!
I've made this paint tons of times to use at the painting station in my Kindergarten classrooms, and it's always been a hit.  It's bright and thick and glossy, and when used on an easel, it doesn't drip.  The best part is that when it dries, it maintains its sheen.  Plus it's super simple to make… In fact, Gracen made it mostly on her own – it's that easy.
Here's what you need to start with… A can of condensed milk, some food colouring, some small bowls or cups (muffin tins work well too), and some teaspoons.
To get started, we poured a little bit of condensed milk into each cup.
We went with 5 separate cups this time around, but you can choose to do more or less.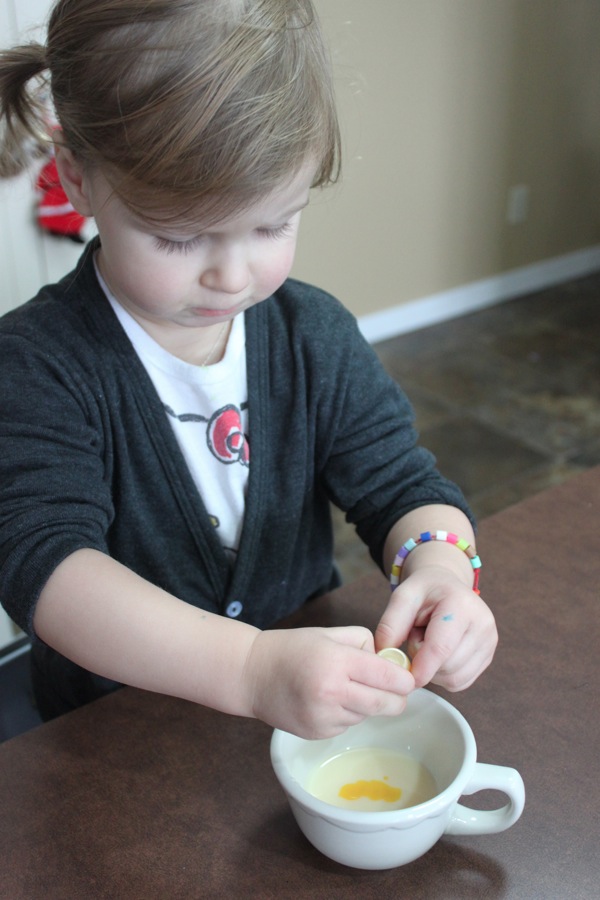 Next, Grae squirted in about 5 drops of liquid food colouring (more for an extra vibrant finish and less for a more pastel look).
We stuck to the basics and added purple, but obviously you can create any colours you choose.
Then my little helper gave each a good stir.
Here's what we ended up with.
With our new paints made, it was time to get creating.
I'd say she was pleased with the results, wouldn't you?
The other fun part about these paints is that they drizzle really nicely due to their thickness…  And who doesn't love some messy fun, right?
Here's the end result.  A beautiful masterpiece created by our beauty. ☺
The parts that were just painted on regularly took a few hours to dry, while the puddles took about a day and a half to lose all of their stickiness, but it does eventually dry and it does stay very shiny.  Because of the milk and sugar content of this paint, I can't say how long it will last for, but it looks lovely for now. 
♥ 
Keep up with all the Mama.Papa.Bubba. fun, like us on Facebook here and find us on Instagram here.