Everybody loves play dough, but chocolate play dough?!  Now that's what I'm talking about.  I actually meant to make this with Miss G over Easter weekend, but we were so busy hunting for eggs and spending our days outdoors, that we didn't get around to it.  So this morning we whipped out our ingredients and got busy in the kitchen.  And I'm so glad we did.  This play dough is so much fun.  Not to mention that it smells delicious and is easy to make.  Here's what we did…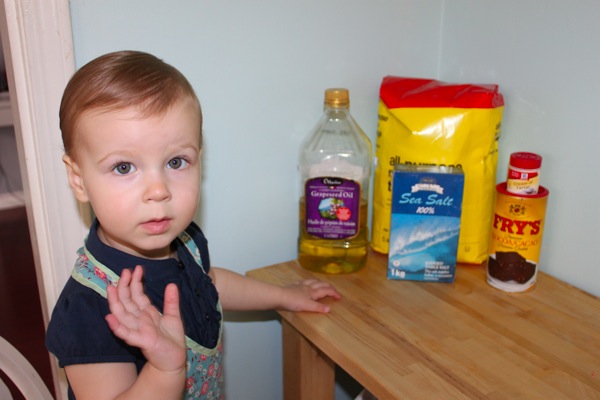 First, Grae helped me gather our ingredients – all-purpose flour, salt, cocoa, cream of tartar, oil, and boiling water (which is safely stored on a counter on the opposite side of the kitchen).
We decided to use our mixer this time around, but you could just as easily use a bowl, wooden spoon, and some elbow grease instead.  Start off by adding your flour to the bowl.
Then dump in the salt.  Close your eyes while doing so for an added challenge.
Next up -the magic ingredient…  Cocoa!
Then add a little bit of cream of tartar….
And mix it all together.
When your dry ingredients are fully blended, add some oil.
Then mix again.
Now for the 'mommy only' job…  Slowly pour your boiling water into the mixture.
Then mix until everything is well blended and the dough begins to come together.
At this point, the dough might appear to be a little goopy, but resist the urge to add flour just yet.  Stop your machine and scrape down the sides and bottom of the bowl, making sure to incorporate any loose flour.
Now give it one more quick mix.
Dump the dough out onto the counter and pat everything together into a nice ball.
Voila!  You're ready to have some fun!
Mmmmmm…  Smells so good too!
For some added fun, we took out a box of chocolates we've had around since Christmas, dumped the contents, and made some yummy play dough chocolates of our own.
Here's the recipe (which I originally found here):
2 cups all-purpose flour
1 cup salt
1/2 cup cocoa powder
2 tbsps vegetable oil
2 tbsps cream of tartar
2 cups of boiling water
Combine all of the dry ingredients.
Add in the oil and mix well.  Then stir in the boiling water until fully combined.  Dump out the dough on a clean surface and knead if needed.  Enjoy!
The original recipe gives you the option of adding 4 drops of glycerine for added stretch and shine.  We didn't have any on hand, but I would definitely give it a try next time around.  The dough is plenty soft as is, but not quite as stretchy as our

purple "cooked" play dough

is.