Yesterday while visiting The Apple Barn out in Abbotsford, Miss G fell in love with the itty bitty pumpkins scattered throughout the u-pick pumpkin patch.  While we're planning a family trip to pick the pumpkins we'll carve later in the month, she totally convinced me to buy a couple of mini ones by telling me all about her grand plans to decorate Rosealina and Harold {yes, she even had names for them} with some of the fun craft supplies we keep on our art cart.  {I mean how can you say no really?}  
So that was that.  We headed home with two little pumpkins and grand plans of creating mini pumpkin people. ☺
{this post contains affiliate links}
Today, while Miss G was at Kindergarten for the morning, I decided to set out an 'invitation to create' that would allow her to dive into her pumpkin people making project any time once home from school.  {She's been enjoying a lot of really low-key, independent play and creative time during the afternoons, so having simple 'invitations' like this one out and ready to be discovered has been perfect for her.  You can read all about these types of invitations on The Imagination Tree.}
For this one, I used a divided party tray, placing one of the mini pumpkins in the centre and some googly eyes, Sharpies, sparkly paper, washi tape, glitter glue, and pompoms around it.  Nearby I set out a plastic tray for working on, as well as our favourite ever craft glue and some scissors.
Of course as soon as she found it, she wanted to dive straight in.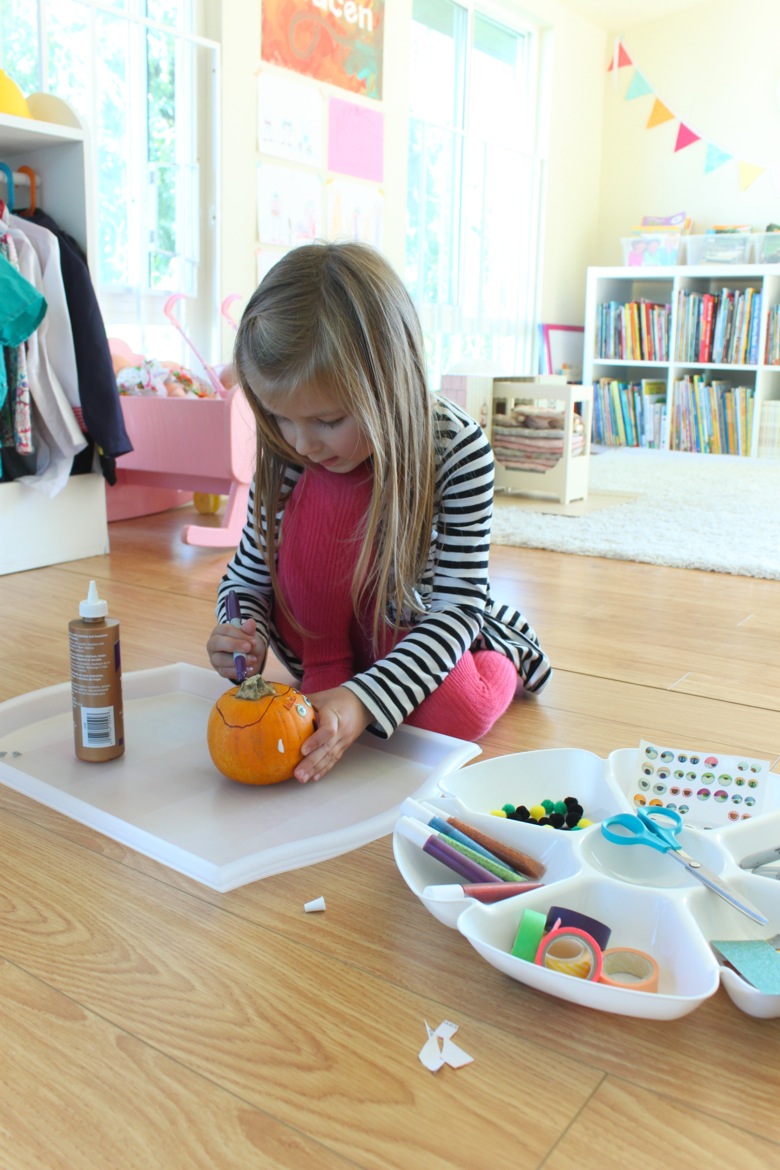 She set to work creating eyes, eyebrows, ears, a nose, lips, and hair for sweet little Rosealina…
And then polished off the look with a sparkly princess crown, an Elsa braid, and some large glitter glue earrings.

That's it.  A very simple, open-ended project that Miss G completed as she desired.  Princess Rosealina now lives in Gracen's room and is currently waiting to meet Prince Harold. Miss G says he'll be ready to meet the princess tomorrow. ☺
Are you following us on social media?  Find us on:
Facebook  |  Instagram  |  Pinterest  |  Twitter
We'd love to have you!