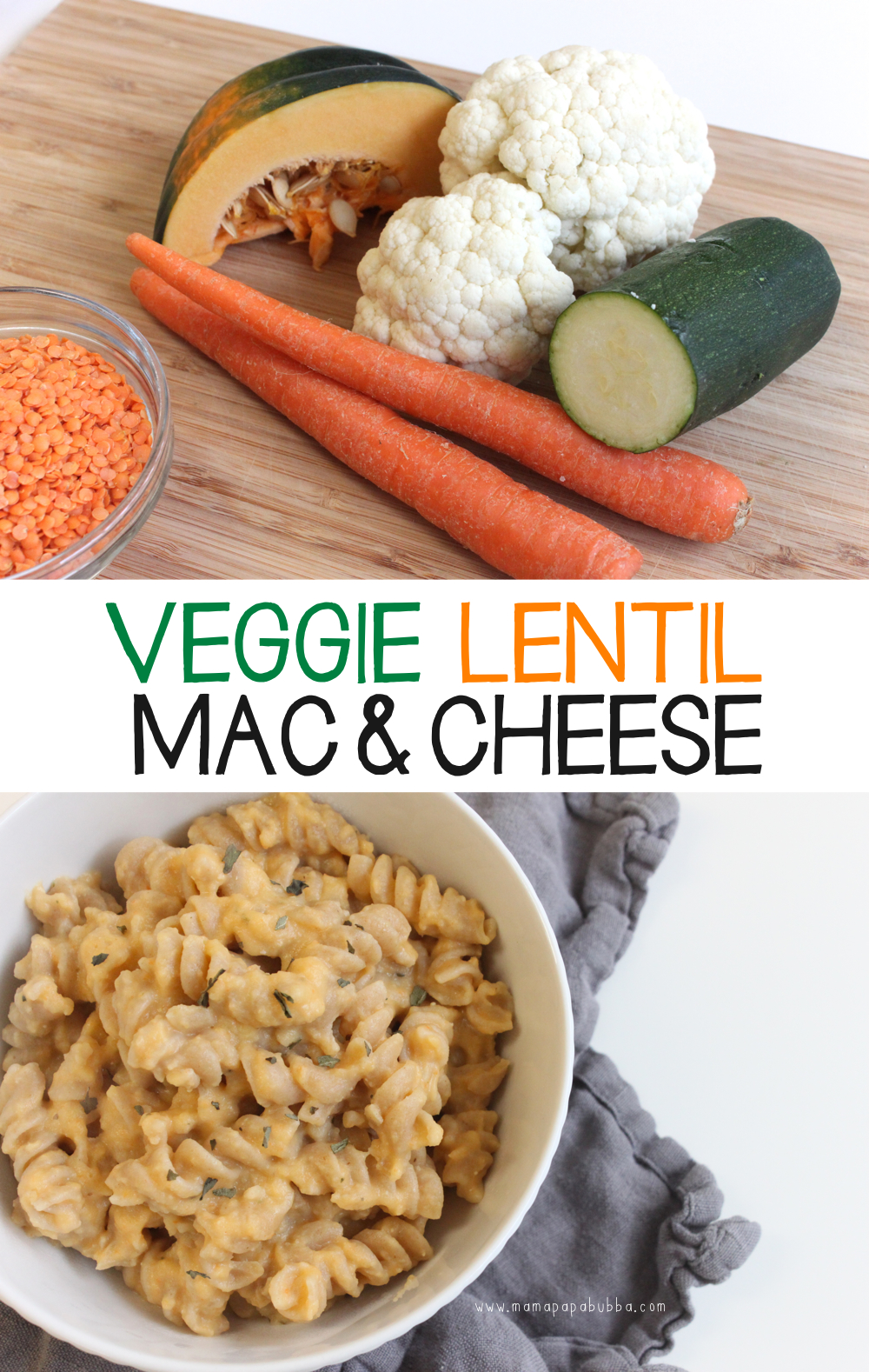 While most mac and cheese dishes aren't overly nutritious, this version is packed with protein, veggies, and whole grain pasta, so I  feel good about giving it to Miss G and she's just thrilled that she gets to eat a giant bowl of pasta and call it a day.
Despite requiring a couple of pots and a blender or food processor, this veggie lentil mac and cheese comes together quite quickly and makes for an easy hot meal after we've stayed outside soaking up the afternoon sun for much longer than we really should have. The whole family enjoys it and since it does cover most of the food groups, it's in fairly regular rotation around here.
The recipe is less of an actual recipe and more of a guide as there are so many possibilities, but here's how we usually make it…
Veggie Lentil Mac & Cheese
1 500 gram package of wholegrain pasta
1 medium carrot, washed and chopped
1 small piece of squash, seeded, skinned, and chopped
1 chunk of zucchini, skinned
1 small chunk of cauliflower, washed and chopped
1/2 cup of dry red lentils
1/2 teaspoon of garlic powder
1/2 teaspoon of basil
dash of cayenne pepper (this doesn't make the dish spicy…just adds a little depth to the flavour)
sea salt and freshly-ground pepper to taste
1 cup of sharp cheddar, grated
Put two pots of water on the stove to boil, one smaller one and one bigger one.
While waiting for the water to boil, wash and chop the vegetables (the combination is really up to you… we just use what we have in the fridge at the time and it always turns out deliciously).
When the water in the smaller pot comes to a bowl, add your veggies and lentils and cook at a gentle boil.
Add the pasta to the larger pot of boiling water and cook according to the package's al dente instructions.
When the lentils and veggies are very soft and mash easily with a fork, drain them while reserving a few tablespoons of the cooking water.  Pop the lentils and veggies into your blender or food processor along with your herbs and spices and puree until completely smooth.  Return the puree to the veggie pot and add the grated cheese.  Stir over low heat until the cheese is fully melted and the sauce is smooth.  Add salt and pepper to taste.  Add a little bit of the cooking liquid to thin out the sauce if desired.
When the pasta is cooked, drain it well and return it to the pot along with the cheesy veggie sauce (you don't have to use all of it if you don't want to, but we like our pasta saucy) and mix well.
Serve and watch your munchkins gobble it up.
Enjoy!
Expert tip:  To make this dish even easier, double up on the veggies and lentils, then save half of the puree in an airtight container in the freezer.  The next time you make it, all you have to do is take the puree out of the freezer and defrost it. 
Are you following us on social media?  Find us on:
Facebook  |  Instagram  |  Pinterest  |  Twitter
We'd love to have you!