Sometimes ordinary days are the best kind.  Don't get me wrong, Little G and I love to get out,  go on adventures, and visit fun places, but sometimes normal, everyday kind of days equally wonderful.  Today was one of those.
Some H2O and an energy bite post-swimming lesson.  (I'm happy to report, by the way, that our submersion day went well.  It was presented in a way I was comfortable trying and Miss Grae did not come up choking, crying, or looking at me like I had betrayed her. In fact, she seemed just fine. Yay for that.)
A playground stop was in order afterwards. Shhhhh…  Don't tell Mama Gracen's hiding.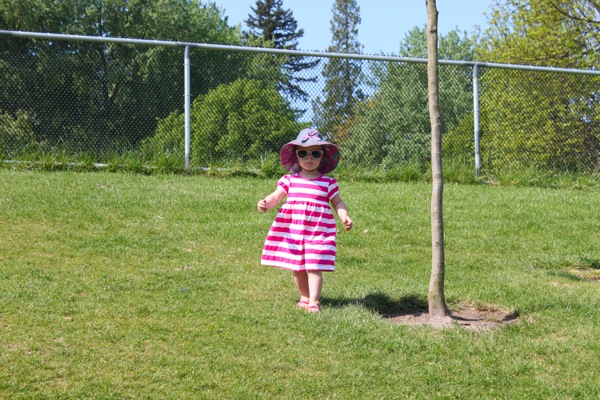 Strolling in the sunshine.
In the words of Grae, "dig-a-dig-a-dig-ah".
Backyard antics.
A quiet moment in the shade of our plum tree.
Tricycle tricks.
Sandbox play with the little girl from downstairs.
Itty bitty bookworm.
An afternoon treat – frothy raspberry milk.
Just like Mama. (Grae loves this ring I had custom made in Kuwait.  It says 'Brad and Jen' in Arabic, so I love that she loves it.)
A homemade popsicle for dessert.
Double-fisting.  (Of course Mama's desert looked just as yummy as her own.)
Oops.  That's not the popsicle hand.
Freshly bathed and ready for bedtime stories.
I'm so lucky to spend my days soaking in these magical little moments.
♥