Our 15th Toddler Food post…  Crazy!  Here's this week's question:
What are Gracen's favourite foods?  I mean, things she'll ALWAYS eat.
Good question!  While she eats almost everything, as she gets older, she's definitely becoming more vocal about wanting certain things at certain times.  So although she may love bananas, she may not want a banana at the time you offer her one.
Here are the things she will almost never turn down: tofu cubes, steamed edamame beans, yogurt, watermelon, nuts, seeds, cottage cheese, crackers (especially these and these), energy bites, steamed carrots, avocado, frozen blueberries, granola, and freeze-dried berries.  Oh, and I mustn't forget, what she calls 'treats'… Organic, no-sugar-added fruit leather.  But who in their right mind would turn that down? 
Here's some of what my munchkin ate this week…
Breakfast // Bear toast (squirrely bread, all-natural almond butter, banana coins, and organic raisins).
Breakfast // Breakfast burrito (flax wrap, scrambled free-range eggs, grated cheddar, and salsa).  Orange slices and banana coins.
Breakfast // Apple sandwiches.
Breakfast // Veggie quiche (artichoke hearts, asparagus, onions, sun-dried tomatoes, and mozzarella).  Roasted potatoes.  Fruit and cinnamon yogurt fruit dip.
Breakfast // Organic plain whole milk yogurt with homemade granola and freeze-dried raspberries.
Brunch // Multigrain french toast with all-natural almond butter.  Berries.  Turkey bacon.  Over-hard free-range egg.
Snack // Wild rice sticks and fresh pineapple.
Snack // Plain organic whole milk yogurt with berries.
Snack // White nectarine slices.  Energy bites (made this time with peanut butter instead of almond butter, raisins instead of large chopped nuts, and less than the 1/4 cup of honey/pure maple syrup we used last time).
Snack // Fresh raspberries.
Snack // Wild rice sticks and old-fashioned white cheese curds.
Lunch // Egg salad on multigrain flax bread. Steamed edamame beans. Berries.
Lunch // Burgoo's gooey cheese griller and sunset corn and chicken soup.  Steamed carrot coins and edamame beans.
 Lunch // Leftover salsa-baked chicken. Carrot coins and edamame.  Roasted red pepper humus and flax flatbread.
Lunch // Fruit salad.  Flax flatbread with roasted red pepper humus.  Veggie-packed muffin. Carrot coins and edamame (gheez – enough with these already!)
Dinner // Southwest turkey chili (with sautéed red, orange, and yellow peppers this time) and grated cheddar.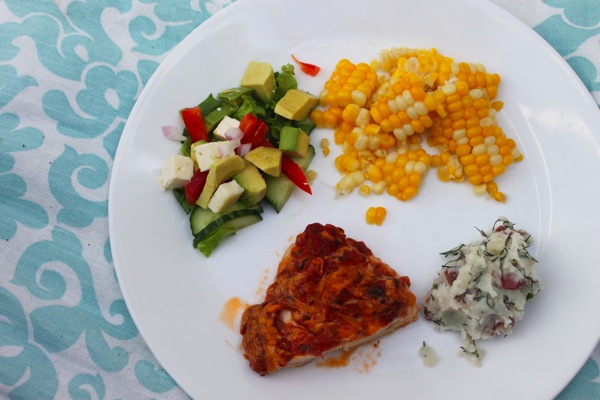 Dinner // Mediterranean green salad with avocado.  Corn on the cob.  Creamy dill potatoes. Salsa-baked chicken.
Dinner // Peanut chicken.  Steamed asparagus and carrots.  Sesame buckwheat soba noodles.
Dinner // Mexican rice bowl (brown rice, sautéed onions and peppers, roasted corn, avocado, and salsa-baked chicken – goodness gracious – was I in a salsa chicken rut this week or what?!)