Miss G and I got to experimenting in the kitchen this afternoon…  We had been out in the garden collecting some goodies earlier in the day, and although we'd eaten most of our finds with lunch, we had a few measly beets left over.   We'd decided we'd make a smoothie, and since we regularly add spinach and kale to our blends, I figured, why not beets?  The result was a BRIGHT magenta smoothie that was yummy enough for Grae to label it "pink ice cleam" and have two cups full instead of just one.
Here's our list of ingredients:  Plain organic whole milk yogurt, frozen no-sugar-added strawberries and raspberries, a ripe frozen banana, a handful of baby beets, a few teaspoons of chia seeds, and some whole organic milk.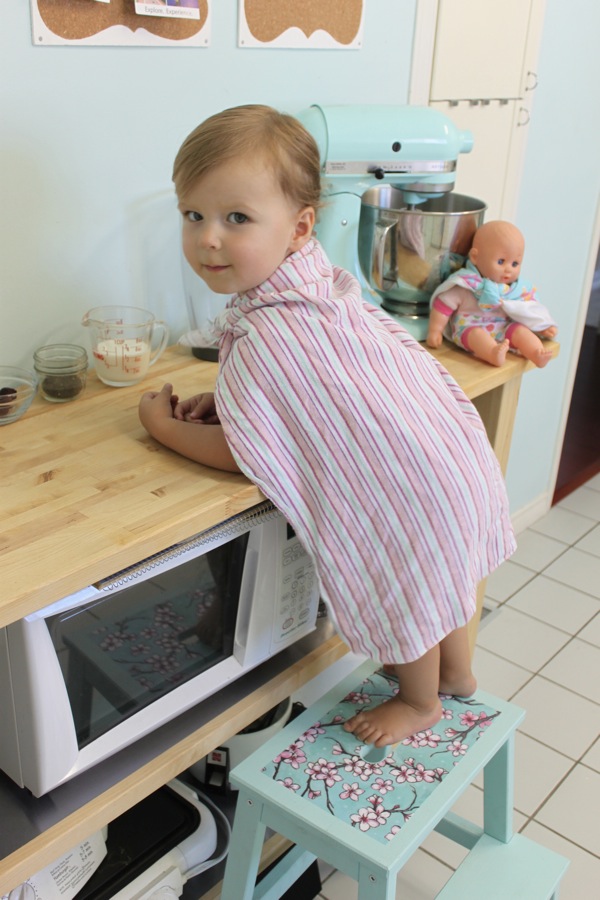 Another must for this recipe? Supergirl and her super girl baby.
Get started by dumping your frozen berries into your blender.  Closing your eyes makes for a better challenge.  Nothing Supergirl can't handle though.
Chuck in your frozen banana.  Again, amp up this step by trying it with your eyes closed.
Next, add your beets in one. by. one.
And then dump your chia seeds in too.
Next, carefully add your milk.  The more you can get into the blender, the better.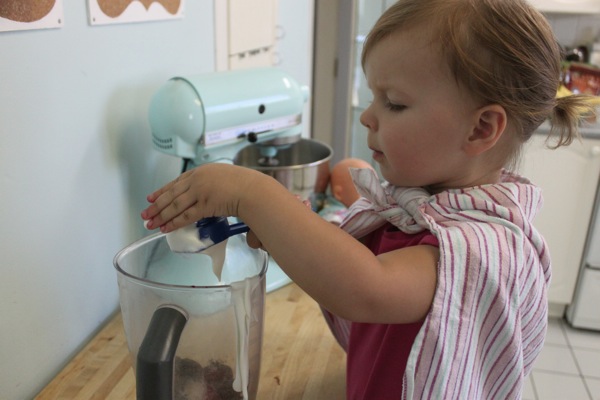 Lastly, add a generous scoop of yogurt.
Blend everything up until thick and bright.
Serve with a straw or a spoon.  Or both.
Watch your little superhero gobble it up.
Nutrient-Rich Beet Berry Smoothie
1/4 cup of plain organic whole milk yogurt
2/3 cup of frozen raspberries and strawberries
1 ripe frozen banana
5-6 baby beets (or one regular sized one), steamed and peeled
3 tablespoons of chia seeds
1/2 cup of organic whole milk
Put everything into a blender and mix until smooth.  
Enjoy!
Another perk, besides the added nutrients, to adding chia to your smoothies?  They keep overnight without becoming separating and getting watery.  Try it!