There's no doubt that we've jumped on the one ingredient ice cream band wagon feet first this summer.  Only we like ours made with two ingredients…
Here they are.  
I know, when I first heard about bananas turned ice cream, I was a little skeptical too.  But trust me – it's sweet, creamy, and perfectly satisfying on a hot day.  Here's how we like to make our two ingredient soft serve…
In the morning, peel a few bananas. (Grae loves this part.)
Then slice them up.
Place the banana coins on a parchment-lined baking sheet and pop them in the freezer for at least a few hours. 
In the afternoon, once they're completely frozen through, take the bananas out of the freezer.
Place approximately 1/3 of the banana coins into a good food processor. 
Mix through the chunky stage, past the crumby stage, and right into the smooth, soft serve texture stage. You may have to stop the processor once or twice to mix things up a little with a spatula, but it's not always needed.
Once the mixture is thick and creamy, stop the food processor and add a capful of good vanilla.
Plus another 1/3 of the banana coins and mix to bring to a soft serve texture again.
Then, add the last batch of banana coins and blend again.  If you're feeling like a vanilla-flavoured treat, you can stop here and serve immediately, or put the ice cream into the freezer for a while for a more hard ice cream texture.
BUUUUUUT, if you want  peanut butter and jelly neopolitan-esque treat, divide your ice cream into thirds, leaving one portion in the food processor.  Place the two other portions in the freezer in the meantime.
First up, make the jelly flavoured ice cream.  Add a spoonful of no-sugar-added fruit preserves…
And a few frozen strawberries.
Then blend until smooth.  Pop the berry ice cream in the freezer and give your work bowl and blade a quick rinse.
Remove one of your vanilla-flavoured ice cream portions from the freezer, pop it in the processor, add a heaping tablespoon of all-natural peanut butter, and mix. When blended, transfer the peanut butter ice cream back into your bowl and pop it in the freezer.
While you tidy up a tad, let your toddler ferociously lick the bowl and spoon.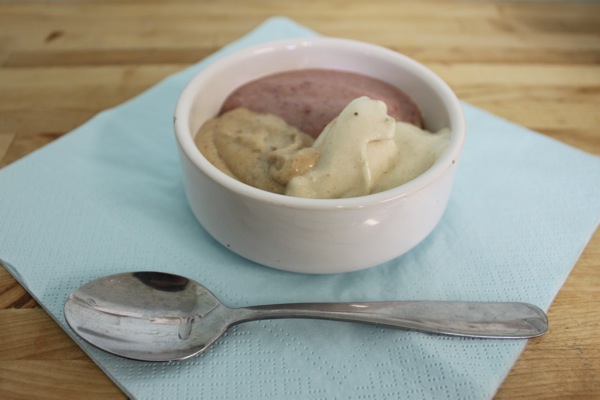 If possible, let your soft serve firm up in the freezer for 5 to 10 minutes.  Or, if your toddler is like mine, serve immediately to appease the begs for "iceth cleam".
Enjoy!