It's no secret that I pretty much love Jackie of Happy Hooligans and all of her awesome play ideas.  So last week, when she posted "Guess what we ripped into and investigated at lunch today! Yum!" along with a photo of a pomegranate on her Facebook page,  the first thing that came to mind was 'Why have I never thought of that?'  I've always been a huge fan of pomegranates (I still remember what a treat it was to curl up on our black leather couch as a little girl with a giant bowl, a dark towel, and half a pomegranate) and Gracen loves them too, but I've never thought to let her play with one before eating it… Silly me! Knowing how much fun she had with our recent pumpkin seed sorting tray (which can be done with almost any squash, by the way), I knew she'd love it. 
To set up a simple pomegranate play station for her, I sliced the pomegranate in half, cut a cross about an inch deep on the flat surface of one of the halves, and popped it in a big bowl of cool water for her.  (Removing the seeds of a pomegranate in water is by far the best way to do it.  Keeping the fruit submerged in water seems to loosen everything up a little, plus it prevents nasty pomegranate stains from occurring. )
I also set out a little tray of "tools" which included a small bowl, a teaspoon, and a large slotted spoon.
Without any direction or modelling, I asked her, "Do you want to play?"  She of course let out an immediate "YES!" and jumped right in.
Right away, she began pulling apart the peel and pulp, digging out the seeds (which are actually called 'arils', but who says that?) by scraping her finger along the membranes, and adding them to the small yellow bowl. (Keep in mind that she has watched me do this before.)
And before long, she requested another small bowl for the "white yucky parts". 
The other neat thing about taking apart pomegranates while they're in water is that the seeds sink down to the bottom and the white membrane bits float to the top, making sorting the two very easy.
After she'd realized this, Grae worked on removing the white bits with her slotted spoon for quite some time, but eventually retired the spoon and went straight to using her hands.
Gracen absolutely loved this very simple sorting activity and it kept her happily engaged for about 40 to 45 minutes before it was time for dinner.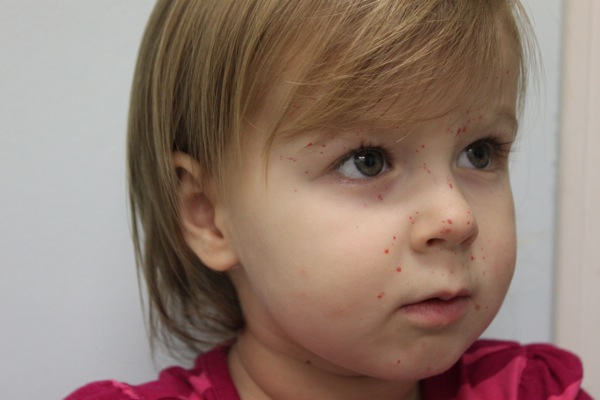 And in the end, not only did we have a very happy {and speckled} little lady, but we also had a big bowl of pomegranate seeds just waiting to be eaten up. ☺
♥