Ever since arriving in Kuwait, Miss G has talked about doing 2 special things when we visit Vancouver next summer…  Going to the Kerrisdale Play Palace and visiting Science World.  Well imagine her surprise when I told her that Kuwait has its own version of both of those things – so excited!  She's waited for weeks and weeks, and now that we finally have a car, we were able to cross one of the two off of our list this morning.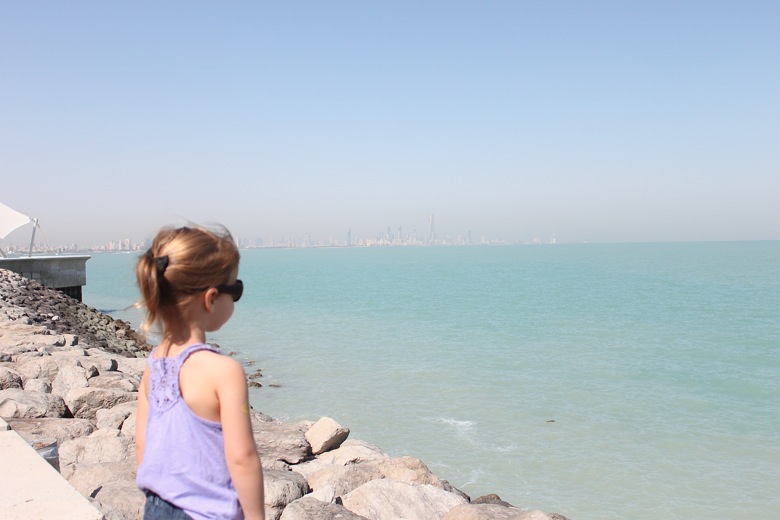 We arrived in Salmiya early this morning excited to check out to visit The Scientific Center, but before heading in, we had to stop and take in the beautiful view of the Gulf and Kuwait City first.
Gracen immediately spotted this cat carrying a fish in her mouth, and we followed her along the rocks for a while, fascinated by what she was up to.  After a few minutes, several kittens crawled out of the rocks, circled around their mama, and enjoyed a delicious fresh fish breakfast which was neat to see.
With that, we headed into The Scientific Center, excited to explore.  Because I've visited many times before and know that TSCK is well-run and worth visiting, we actually opted to purchase memberships instead of day passes.  We had annual memberships to both the aquarium and Science World in Vancouver too, and if you go somewhat regularly, it makes much better sense to do it that way.  Today's visit would have cost us around KD 10, but a full year membership for both of us was only KD 38.  Well worth it, I'd say.
With our forms filled out, it was off to aquarium first.
Though much smaller than the Vancouver version, I've always found that Kuwait's aquarium appears clean and  offers a good variety of sea creatures.  I think Miss G agrees.
She particularly enjoyed the penguins and thought it was cool that they were wearing bracelets just like the ones in Vancouver do.
What she loved most, however, was their names.  She giggled at every single one, then had me read them all again.
With that, we headed into the sea zone of the aquarium…
Sadly, my camera has been acting insane lately, so I had to rely on my iPhone to take pictures, but oh well.
Grae and I both really loved these little guys…
And the jellyfish too!
But Miss G's absolute favourite?  The sharks!
And I don't blame her… They are very cool to watch.
My very favourite part of the aquarium is this part where the walls on both sides of the corridor are floor to ceiling tanks.  You feel almost as if you're right in the ocean swimming with all of the creatures.
After exiting the aquarium, Miss G led us directly to the Discovery Place, which currently has 'robot animal' themed exhibits.
After visiting the robot giraffe, Grae headed to the tortoise track, grabbed a shell, and began racing, which I just found hilarious.
Then we experimented with camouflage…
And eventually ended up in the giant sandbox.
Because we arrived in time for opening and there didn't seem to be any school field trips happening this morning, Miss G pretty much had the entire place to herself, which was nice.
We had such a great time and didn't even make it to the dhow harbour or the IMAX theatre this time around.  Grae's already decided – on our next visit, we'll watch the butterfly IMAX film.  I'm just as excited as she is.  ☺
For more fun not found on the blog, join us on Facebook or follow us on Instagram.