On the way home from a little mama/daughter photo shoot  today, Gracen asked if we could build a duck pond.  I'm not sure where how or why this request came about, but I was as game as she was.
It's been a while since we've put together a new sensory bin and what I loved this time around was that instead of me putting something together for her to explore and investigate, we created this one together.  Very similar to a frog pond sensory bin we've played with before, our duck pond sensory bin included glass beads in blues and greens, rocks, driftwood, some flowered branches from the yard, and a couple of toy ducks we already had on hand.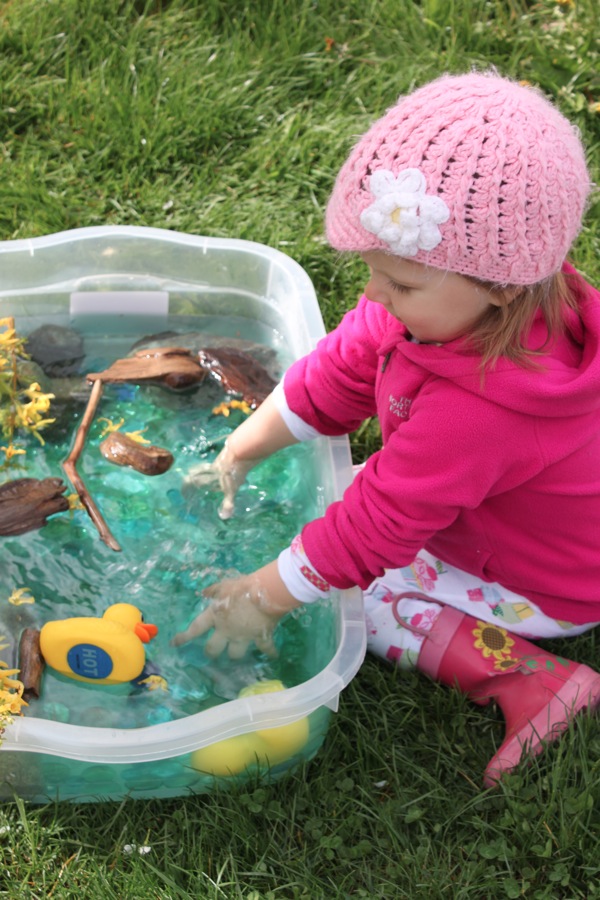 In order to make it outdoor-friendly, the pond's water was nice and warm.
So warm apparently that Miss G didn't mind getting her entire body soaking wet.
Grae played for a little while before moving onto more exciting things with Grandma Charlotte, but I know she'll get lots more play out of it once the excitement level gets back to normal around here.
♥
For extra fun, like us on Facebook here and find us on Instagram here.